ROOF WASHING ENSURES OPTIMUM ROOF HEALTH
Our Middle Tennessee roof cleaning services help restore your dirty roof to a healthy condition!
Have you noticed streaky, discolored areas on your roof? It's probably algae or roof mold buildup. When this occurs, your roof may be in need of a low pressure roof washing and gutter cleaning. Five Points Roofing in Tennessee uses custom made low-pressure equipment and eco-friendly specialty roof cleaning solutions to ensure your roof is restored to it's best condition.
Also know this… A dirty roof is not only an eyesore, it can actually compromise your roof's health and integrity. There are specific types of algae that actually feed on asphalt and limestone, which is precisely what your shingles are made of, and that's why it's imperative to keep your roof clean and looking like new. Click below, or call us today to schedule a free roof washing consultation.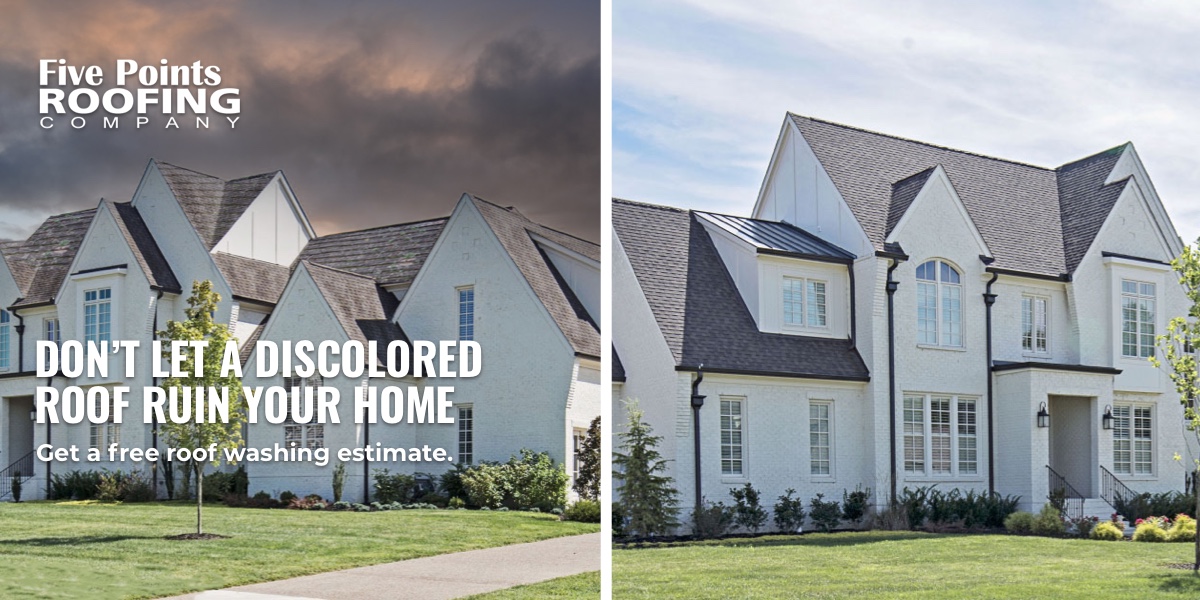 See What Our Middle TN Roof Washing Clients Say
SCHEDULING A FREE ROOF WASHING CONSULTATION
At Five Points Roofing Company, our family has over 75 years of combined roofing experience. Year after year, we've been voted the #1 Best Roofer in Middle Tennessee by our Nashville, Franklin, Brentwood, Murfreesboro, and Spring Hill customers. You can trust our knowledgeable team of roof cleaners to help get your roof back in it's original, healthy condition. If you have noticed a dirty roof and need shingle, metal or slate roof cleaning services, call us today to schedule a free consultation with our roof washing experts.
Schedule a Free Roof Washing Consultation Today:
Call (615) 645-2055 or fill out the form below.