IS IT TIME FOR YOUR ANNUAL ROOF INSPECTION?
Save Time, Hassle, and Risk by opting for a Quick, Contact-free Drone Inspection & Assessment!
*Free drone roof inspections in the Nashville, Franklin, Brentwood, and Murfreesboro area. Free roof inspections do not apply to inspections relating to a real estate transaction unless it is for the seller.
During a traditional inspection, the inspector walks around on your roof and physically checks each area, which can open your property up to potential damage. The process can take hours to complete and the homeowner must be home. Even with the most experienced inspector, areas of damage and structural irregularities can be missed due to human error.
In contrast, a drone roof inspection is quick, contact-free, and able to detect minor damage that has the possibility of snowballing into a larger issue. Plus, no one will need to be home during the inspection, so you won't need to waste a vacation day. On average, the process only takes around 30 minutes to complete, which means we're able to complete a large number per day. Instead of waiting weeks or even months to get an appointment, we'll be able to satisfy your request with minimal wait time.
At Five Points Roofing, our consultants are Part 107-licensed drone pilots, skilled in capturing high-quality images. To ensure that no stone is left unturned, we use a fully automated program to ensure safety, automatically detect damage, and determine the overall health of your roof. We'll generate a comprehensive roof condition report detailing any potential issues, which can be used to pre-qualify a home for a full inspection or when submitting an insurance claim. To schedule a drone roof inspection in Nashville, Franklin, Brentwood, or Murfreesboro,  contact us today at (615) 794-4001, or click the button below to fill out our scheduling form.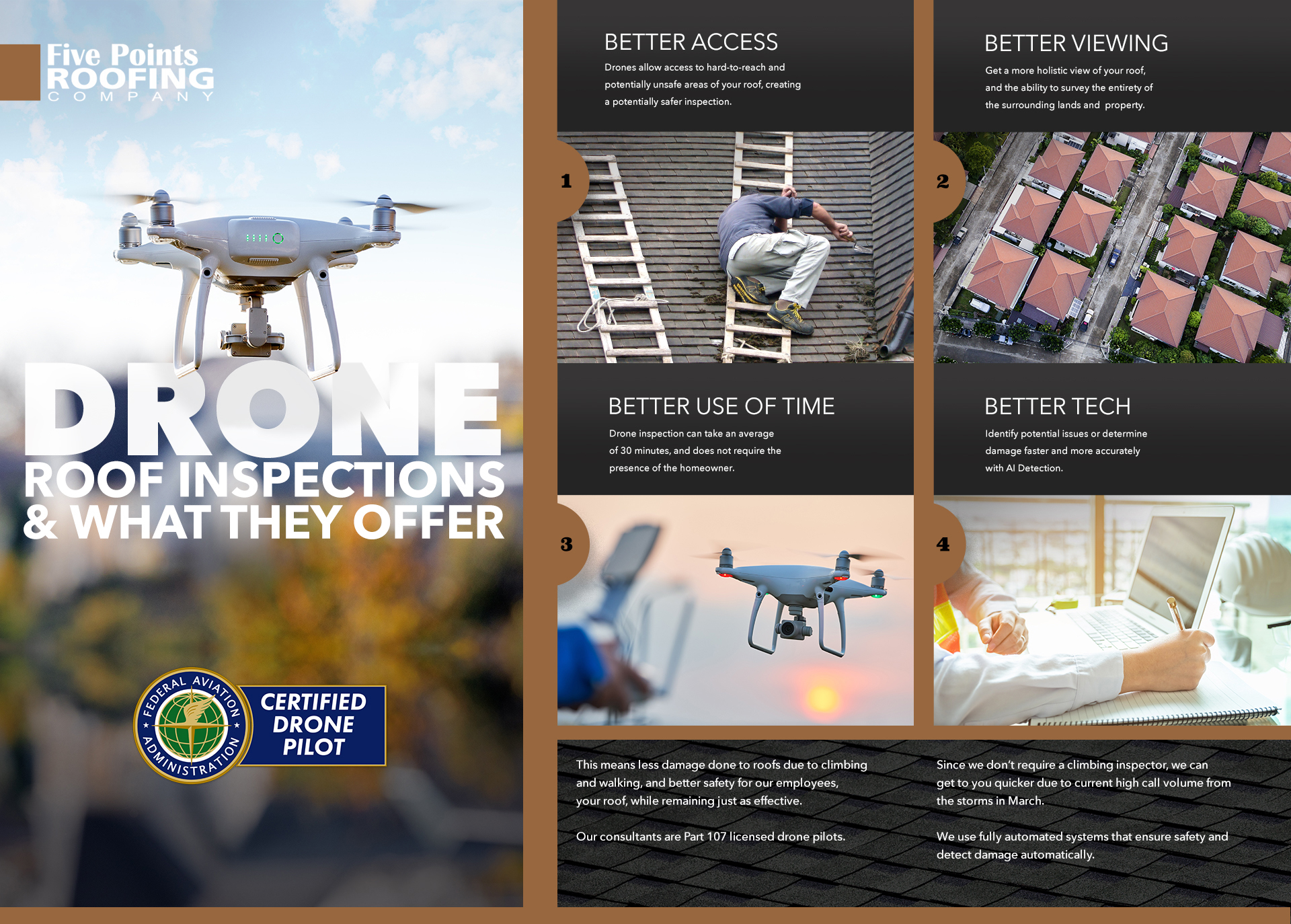 Common Drone Roof Inspection Questions

WHY CHOOSE A DRONE ROOF INSPECTION
In addition to our Signature Five Point Roofing Inspection benefits, the drone won't make contact with your roof, so it will not cause any damage. It also enables you to identify issues in their earliest stages so you can prevent large repair bills down the road. Thanks to our thermal imaging software, we can detect damage invisible to the human eye, in addition to areas of heat loss that could be contributing to larger-than-average energy bills.
HOW DOES IT WORK?
One of our licensed, certified inspectors will come to your property and carefully scan your roof and surrounding property with a drone. Once the drone captures high-definition, built-in artificial intelligence (AI) will perform an analysis to identify any potential damage. At the end, you'll receive a full report detailing areas of concern, as well as the high-quality photos of your property.
HOW LONG DOES IT TAKE?
Unlike a traditional roof inspection, which can take multiple hours to complete, a drone inspection usually clocks in at 30 minutes for your typical Nashville residential property. We'll be in and out of your hair in no-time!
DO I NEED TO BE THERE DURING THE INSPECTION?
Forget taking a day off from work just so you can sit at home and wait for your inspection to finish. Your time is valuable to us! With a drone roof inspection, you won't need to worry about being home while it's happening. However, if you can, we'd like you to be there so we can review results and set some expectations.