DEFECTIVE ATLAS CHALET SHINGLES
If you have Defective Atlas Chalet Shingles, you may be entitled to a new roof at no cost to you!
Atlas Chalet Shingles were created to provide homeowners with a more affordable alternative to true architectural shingles. However, due to frequent cracking, blistering, and other defective issues, they were discontinued and taken off the market.
Since Atlas Shingles are not true architectural shingles, it's important to know that your home will need a total roof replacement if they become damaged. Even slight weather damage to Atlas Shingles can require a full roof replacement at no cost to you! Therefore, if you have damaged Atlas Chalet Shingles, contact us as soon as possible and we will begin the process to file a claim and install your new shingle roof with true architectural shingles to prevent further damage to your Middle Tennessee home.

Identifying Atlas Chalet Shingles

ATLAS CHALET VS. ARCHITECTURAL SHINGLES
Atlas Chalet 3-tab shingles were designed to mimic the appearance of true architectural shingles at the lower price point of 3-tab shingles. However, if you need to know how to identify Atlas Chalet Shingles, there are some characteristics to look out for, including:
Keyways: Atlas Chalet Shingles have keyways, or divisions, between the tabs of each shingle. True architectural shingles do not have keyways.
Shadow lines: Atlas Chalet Shingles have dark granules to create a false illusion of shingle layering.
Three tabs: Atlas Chalet Shingles have three tabs instead of the correct two tabs that architectural shingles have.
WHAT IS A PROPER SUBSTITUTE FOR ATLAS CHALET?
There is no true substitute other than architectural shingles. So, if you notice any of these Atlas Chalet 3-tab traits on your roof, it's very possible that you have Atlas Chalet Shingles and will need to schedule a roof inspection and replacement. If it is found that you do in fact have Atlas Chalet Shingles installed and there is damage present, our HAAG Certified Roof Inspectors will help walk you through the process to get your roof replaced with a quality architectural shingle through your insurance company.
Five Points Roofing has had much success replacing entire roofs for clients at no cost to them when they've found to have Atlas Chalet Shingles.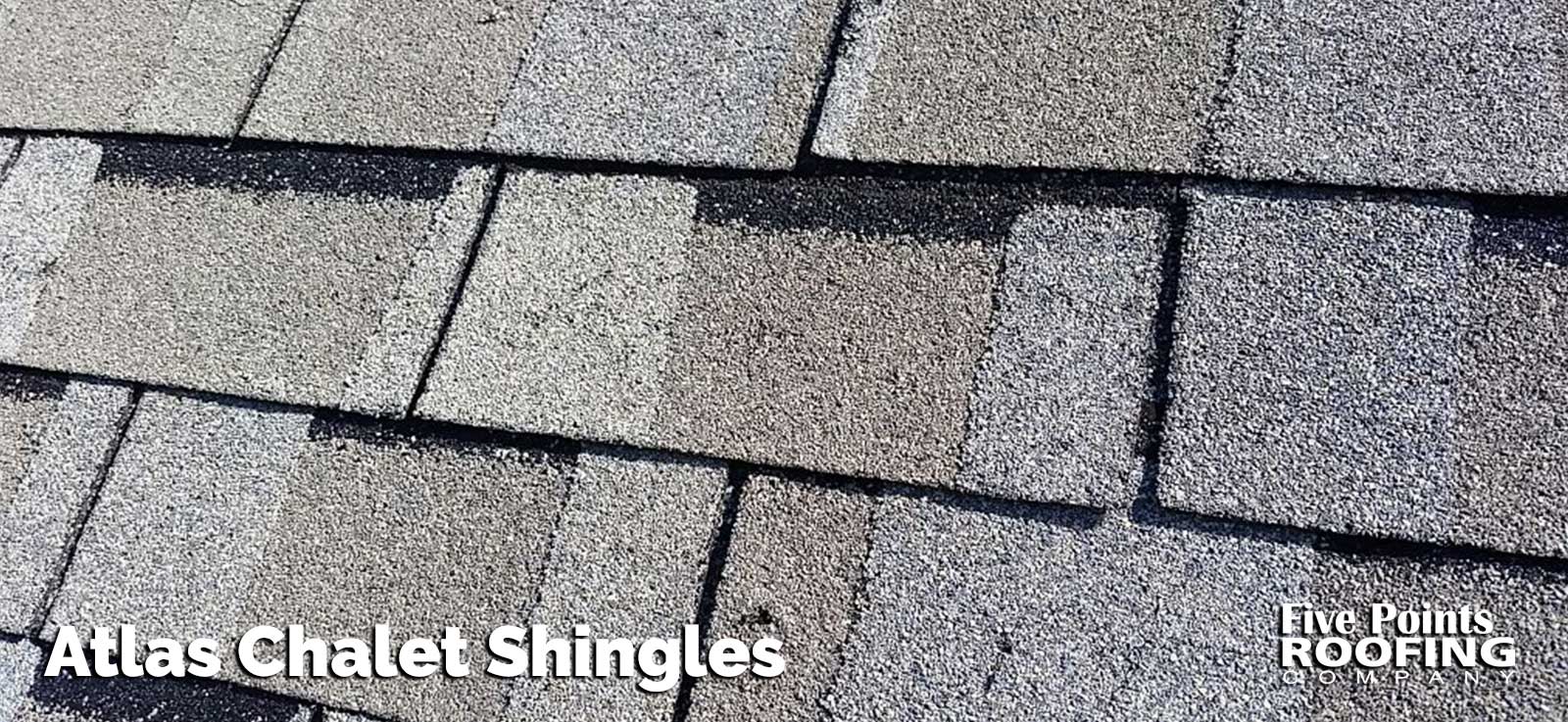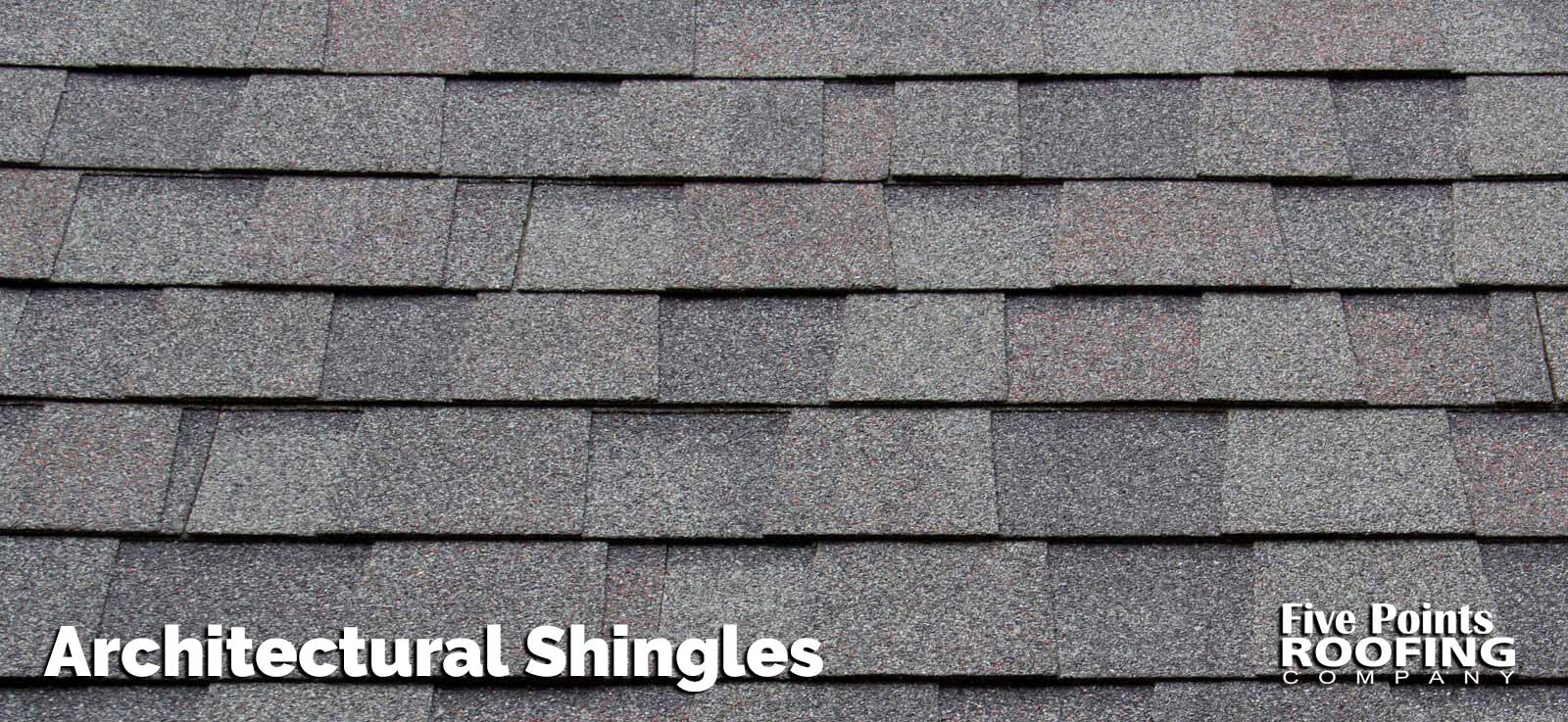 Slide to see the difference between atlas chalet 3 tab shingles & architectural shingles.

Filing an Atlas Chalet Insurance Claim
IF YOU HAVE ATLAS CHALET SHINGLES
We can help get a premium quality, new shingle roof covered at no cost to you*.
*Less your insurance deductible
If you realize that you have Atlas Chalet Shingles, don't panic! Home insurance companies cover roof replacements if you have Atlas Chalet Shingles. Also, architectural shingles typically carry a lifetime warranty when installed by certified roofing contractors, like Five Points Roofing Company.
At Five Points Roofing Company, we only use true architectural shingles for shingle roof replacements, so we can ensure you that yours will come with a warranty. Also, the majority of successful roof replacement insurance claims require little to no out-of-pocket expenses after you reach your deductible!
Before & After Atlas Chalet Roof Replacement
See our video of the before and after difference of a successful atlas chalet shingle replacement in Brentwood, TN.
WHAT DO ATLAS CHALET SHINGLES LOOK LIKE?
See pictures of some of the Atlas Chalet Shingles we've come across in our many Atlas Chalet roof replacement jobs.
See What Our Atlas Chalet Roof Replacement Clients Say
[embedsocial_reviews id="9aec0e2b5ca158c3aa6efe7f2fdb4782351502f7"]
SCHEDULING A FREE ATLAS CHALET ROOF INSPECTION
Five Points Roofing Company has over 75 years of combined roofing experience in Middle Tennessee. Our local roofing company services Nashville, Franklin, Spring Hill, Brentwood, Murfreesboro, and more. We've also been voted the #1 Best Roofer in Middle Tennessee year after year, so you can trust our knowledgeable roofing experts to correctly replace your Atlas Chalet Shingles with high-quality true architectural shingles.
If you think you have damaged Atlas Chalet Shingles, get in touch with us to schedule a Signature 5 Point Roofing Inspection today! We'll help you determine if you have Atlas Chalet Shingles, decide if they're damaged, and walk you through the process of filing an appropriate claim with your home insurance company.
Schedule a Free Atlas Chalet Shingle Inspection Today: