Thanks for requesting a free Hail Damage Inspection!
One of our roof consultants will contact you shortly to finalize your appointment. Due to the volume of requests it may be within the next hour or if it is currently after business hours 7:30-5pm Monday – Friday, we will call you first thing the next business day. In the meantime, below we've provided a quick overview of hail damage information and ways to spot it on your property. If you'd like to see what our next steps are, scroll to the bottom of the page.
If you have questions feel free to contact our office at (615) 794-4001.
First off, inspecting a roof for hail damage is a dangerous job. We highly suggest that you do not climb on your roof.
What is Hail?
A quick lesson about hail before we get into how to spot the damage it causes.
Hail is a form of precipitation that occurs when raindrops that are formed in clouds get carried much higher by air currents. Once these raindrops begin to gain altitude, they begin to quickly cool to below freezing temperatures and freeze. That then frozen raindrop begins to fall and if the air currents are strong enough, it starts the cycle again until the hail stone becomes too big for the updraft to carry. Once the large hailstone begins to fall from the cloud, it brings strong cold downdrafts with it, which can also cause damaging winds.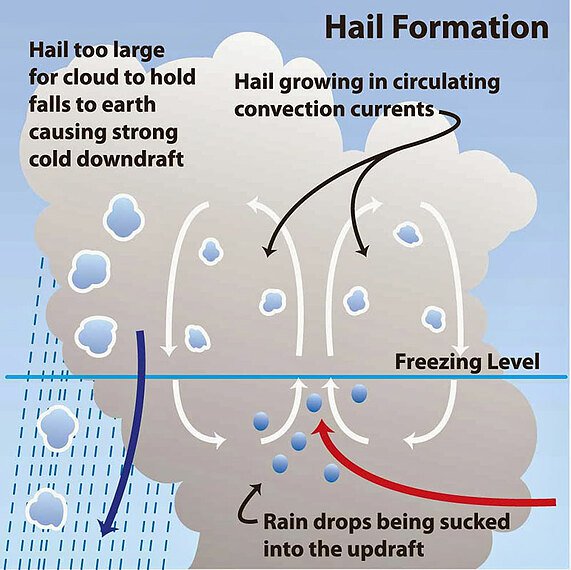 Hail Size and Damage Potential
A quick idea of what size hail it takes to cause damage
< 0.5″: Typically not much damage, maybe some plant damage
0.75″ – 1.0″: These sizes you can typically expect some sort of minor roof or siding damage, this size hail can cause issues later down the line and reduce the lifespan of your roof without immediate symptoms.
1.25″ – 1.5″: Here is where you start to see some major roof damage, causing defined shingle dents and dents or cracks in metal roofing and siding.
1.5″ – 1.75″: More severe roof damage, full roofs typically affected with multiple shingles or metal panels severely damaged.
1.75″ – 2.5″: Serious paint damage, cars significantly damaged and will require body work, garage doors and other exterior metal features damaged.
2.5″+: Windows broken and severe property damage, unsheltered animals may be at risk for serious injury. (see what this is like in the video ?)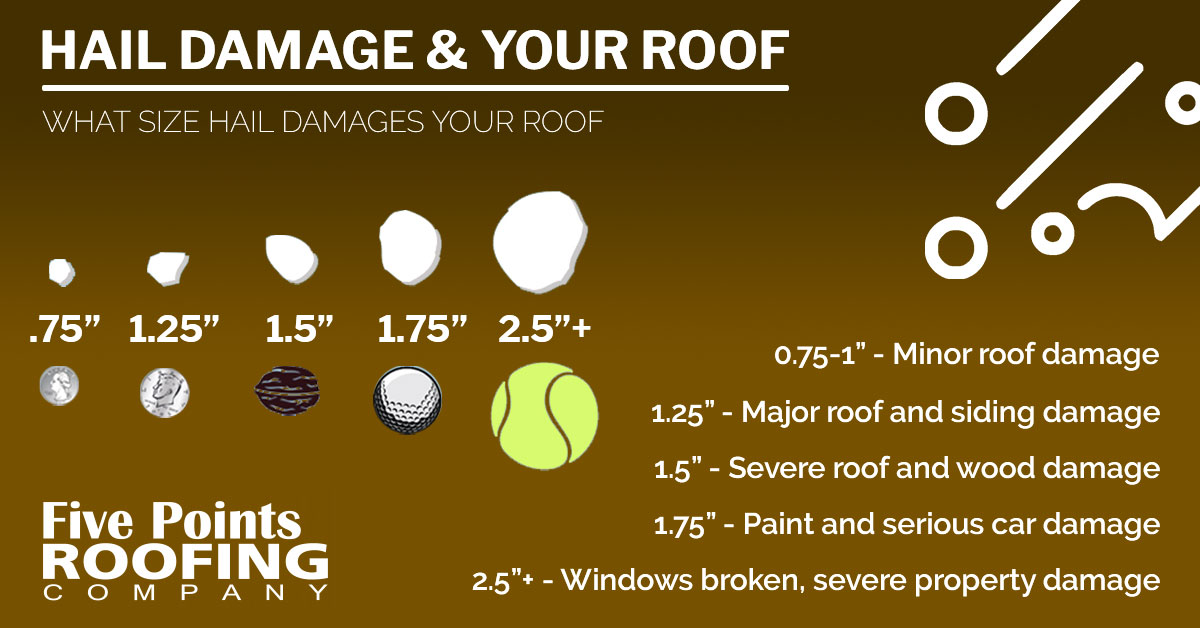 4 Exterior Signs of Hail Damage

Check your siding and exterior on all sides of your home for dents or cracks, usually a tell-tale sign your home had a significant hail event.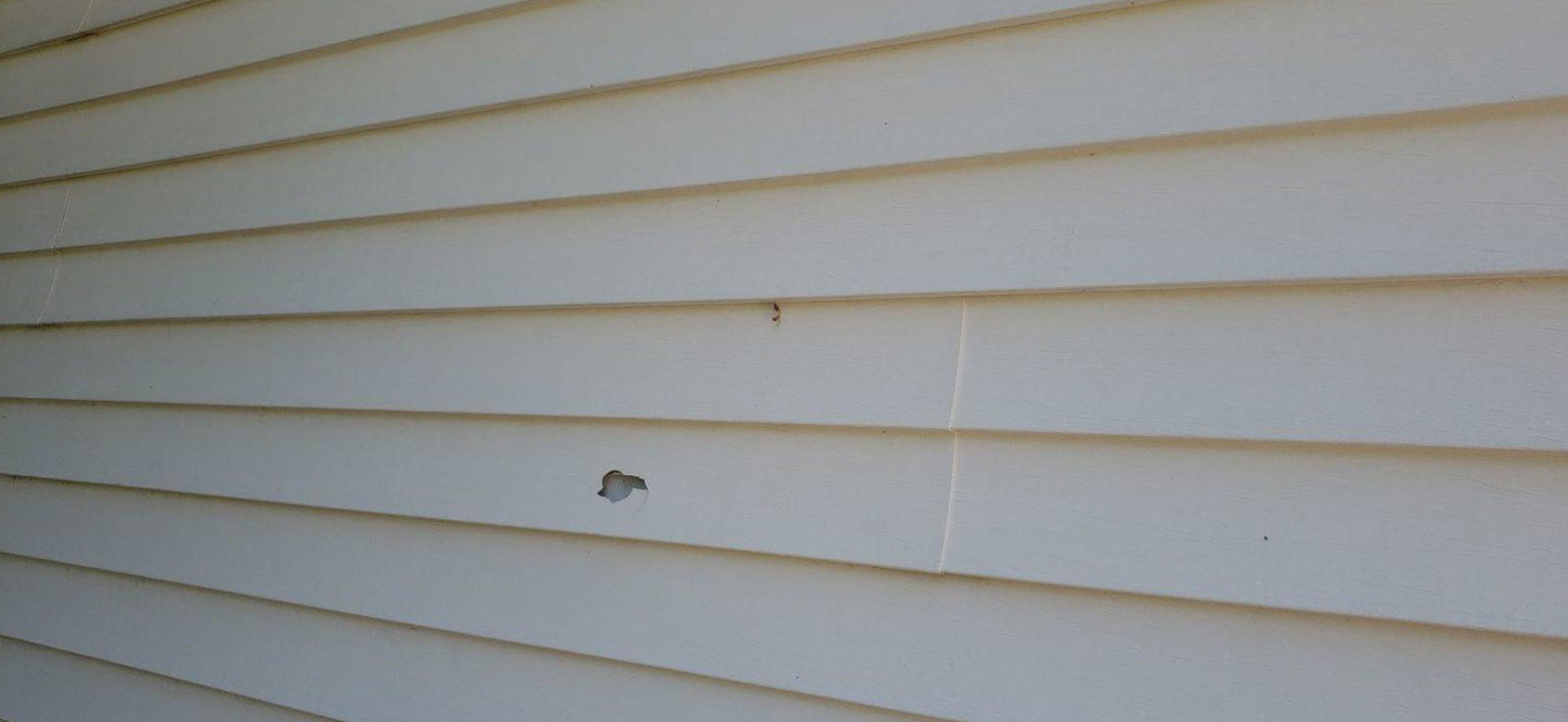 Gutter and Downspout Damage
Look closely at all your gutters and downspouts for dents or warping. These are signs of definite hail damage.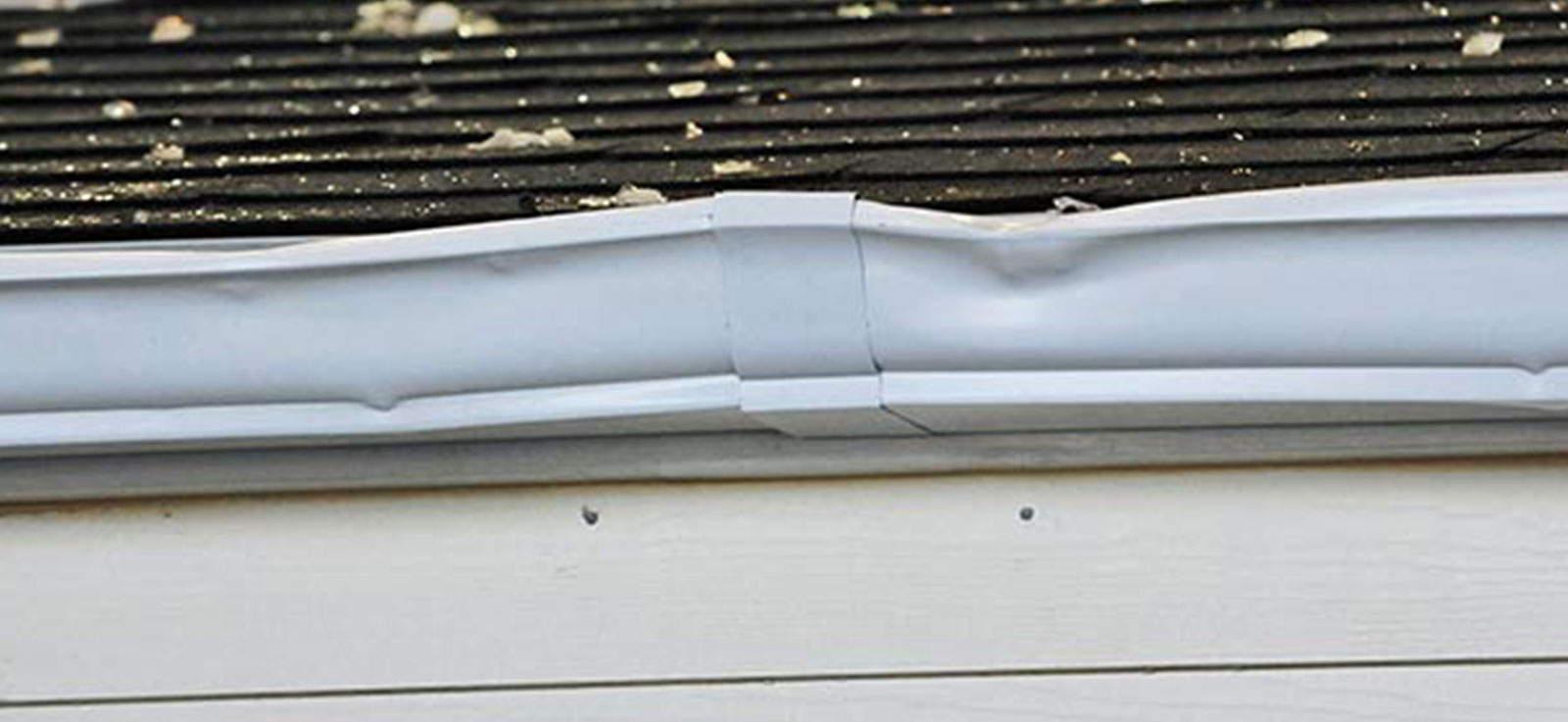 Air Conditioner & Condenser Damage

If your air conditioner has an exposed coil condenser, you will usually see signs of hail damage here. Look for dents in the condenser coil.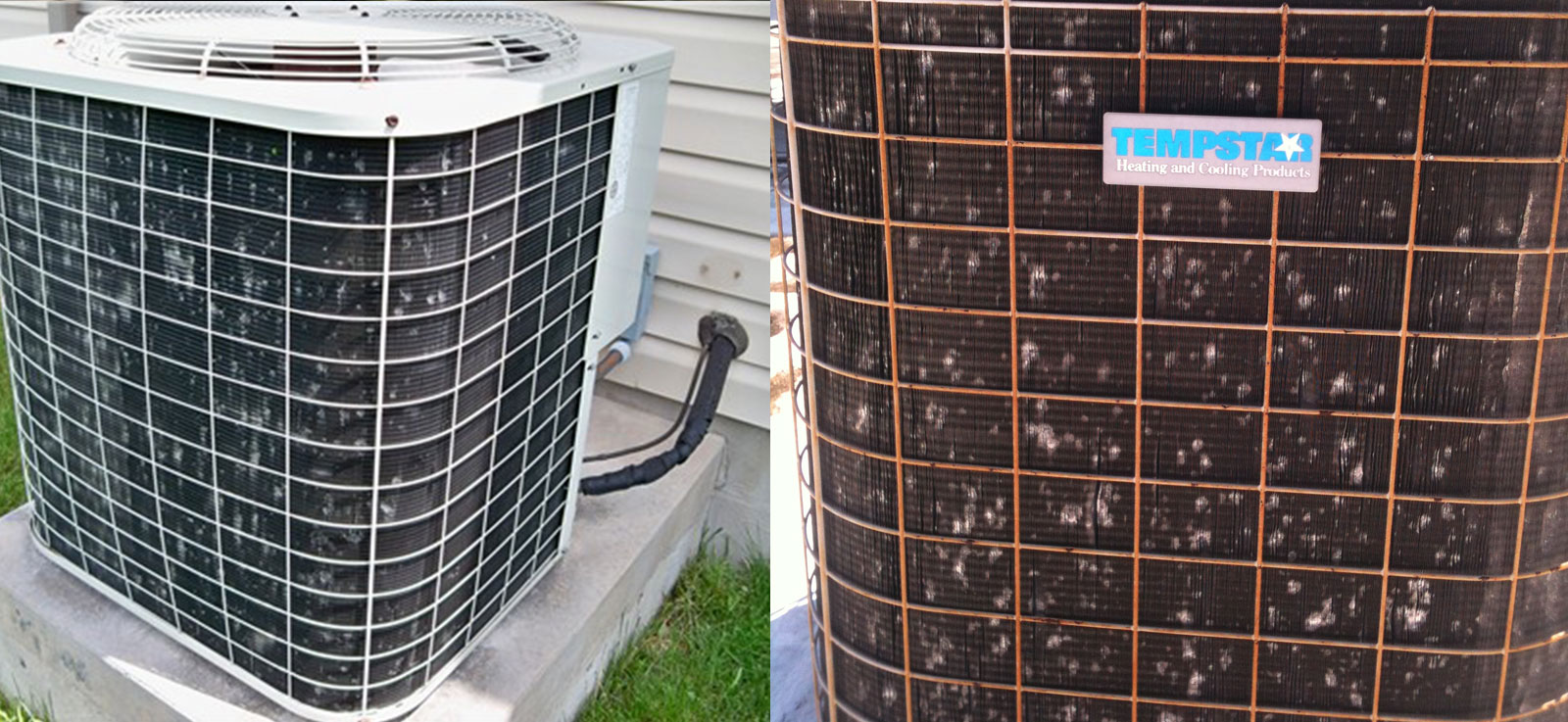 Granules in Gutters or Downspouts

If you're noticing granules in your gutters or downspouts. It's a sign you have shingle damage that may have been caused by hail.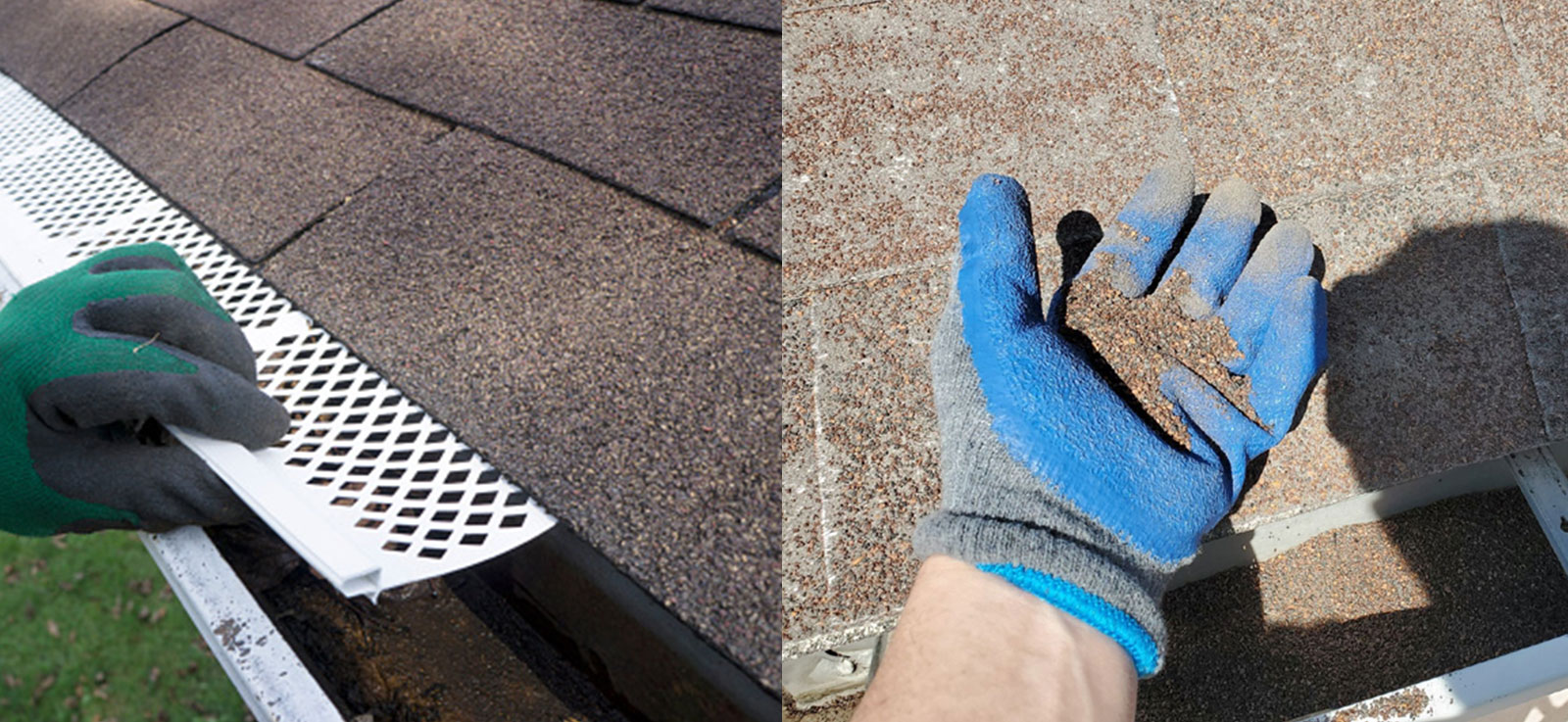 Signs of Roof Hail Damage

Hail damage to shingles can either be very easy to spot, or extremely difficult. It really takes a trained roofer to spot hail damage to shingles in most situations. Usually you'll notice surface granules knocked off the shingle in a circular patter like the images below, but in some instances, the damage can be very hard to see. Even when the smallest amount of granules are knocked off, it compromises the integrity of the shingle and a water leak can begin to develop, that's why it's imperative to file an insurance claim if this is noticed. Usually insurance only begins to cover hail damage when 8 or more hail damage spots are noticed within 1 square (10ft x 10ft) on at least 3 sides of your roof. We don't suggest climbing your roof to identify these spots. Call us and our inspectors will climb your roof, mark the shingle damage clearly with chalk and take detailed pictures to submit to your insurance adjuster.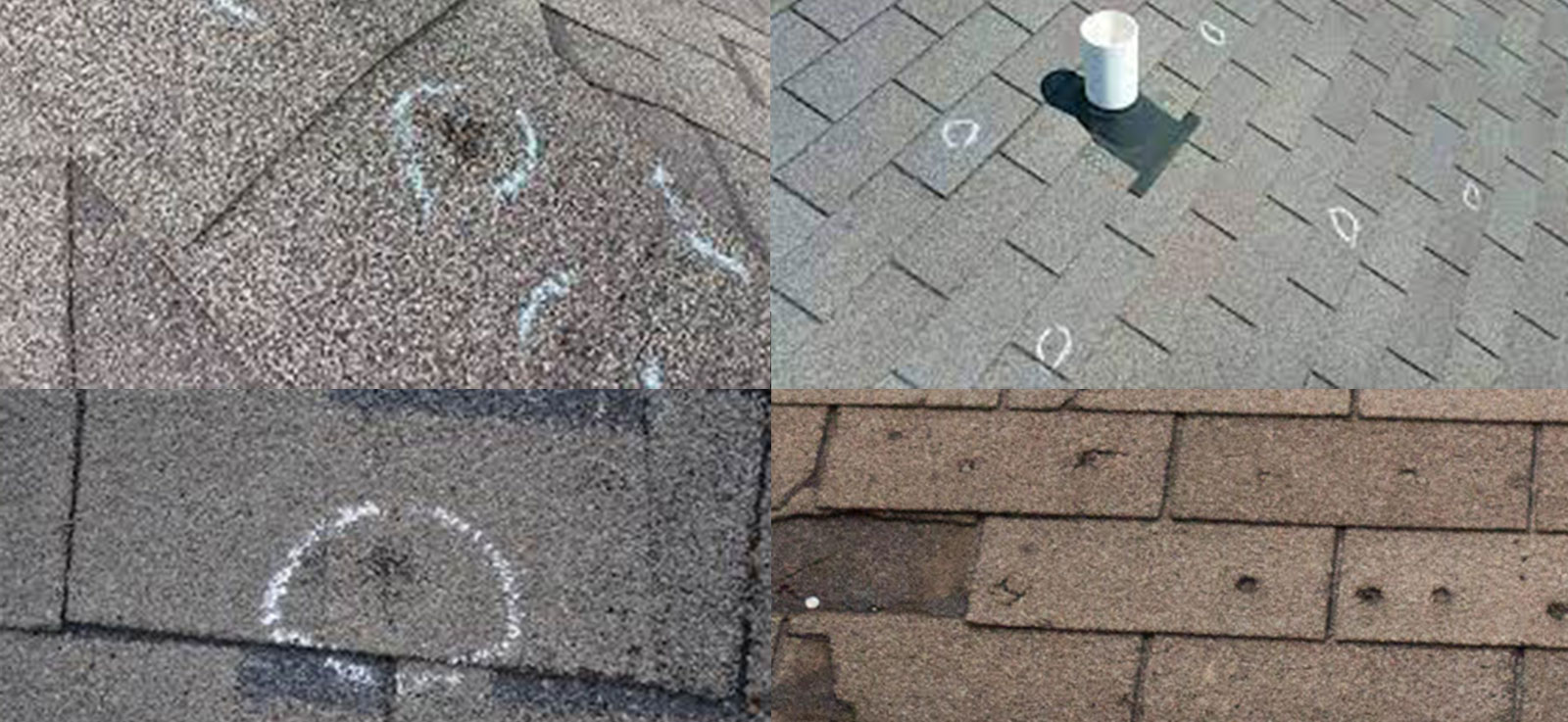 This is the easiest type of hail damage to spot. Dents in metal roofing or on vents can be easily found simply by looking at the metal, feeling it, or using loose chalk. Hail damage to metal roofs is not only an eye-sore, it can bend and warp the metal roof and cause other long term issues.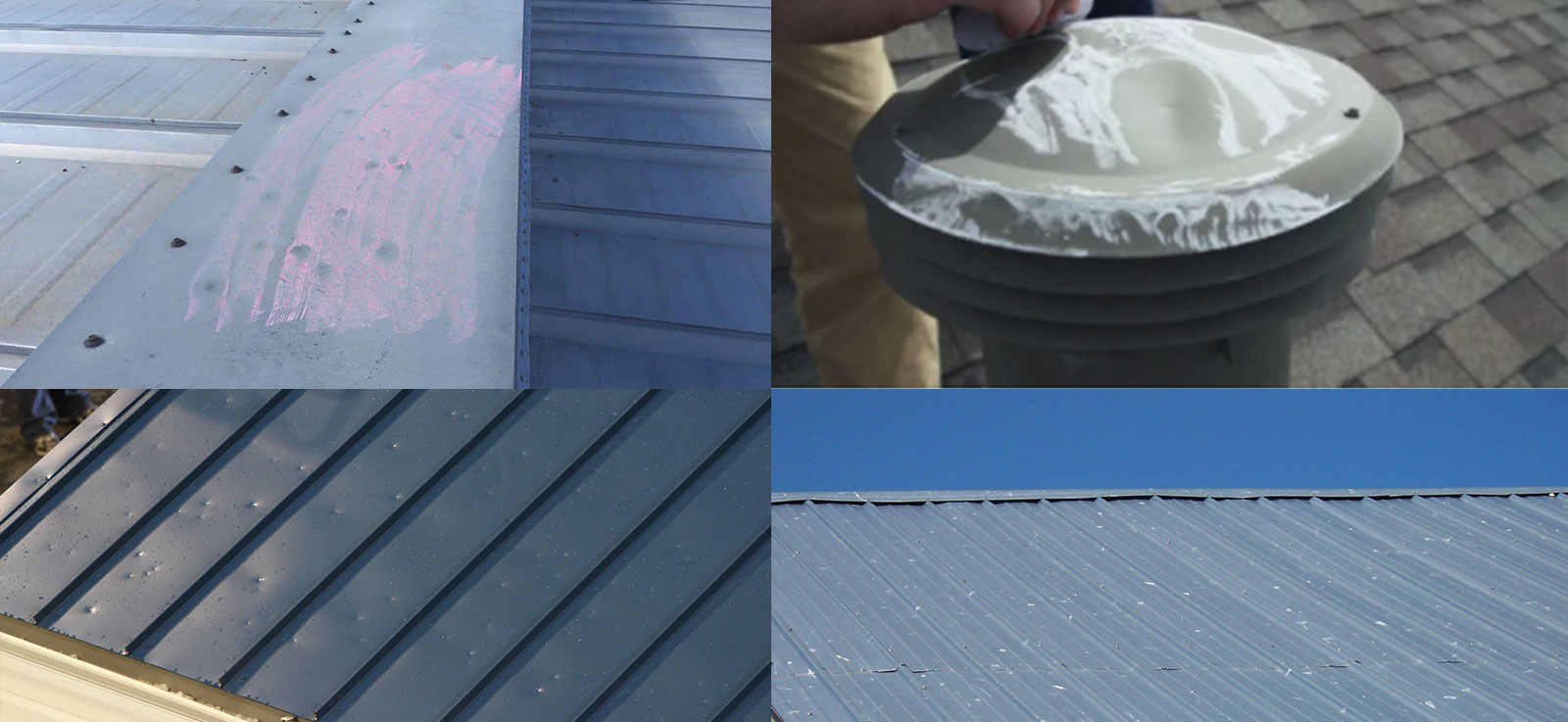 What happens next / Next Steps
Once your initial appointment is scheduled, we'll send a certified roof inspector to survey your property. One of our inspectors will visually and physically inspect your roof and exterior for signs of damage. If damage is found, we'll most likely refer you to file a claim with your homeowners insurance carrier. Your roof consultant will walk you through that process and most likely need to schedule a second follow up appointment for our inspector to meet with your insurance adjuster. Rest assured, you'll be assigned a dedicated roof consultant that is an expert in the insurance claims process, and they will help you walk through each step of the way.
In the case that the damage incurred is just requiring a small repair, we'll either refer you to a roof repair consultant or if small enough of a job
Have more questions? Feel free to call our office any time Monday – Friday, 7:30AM – 5PM at (615) 794-4001
We look forward to meeting you!